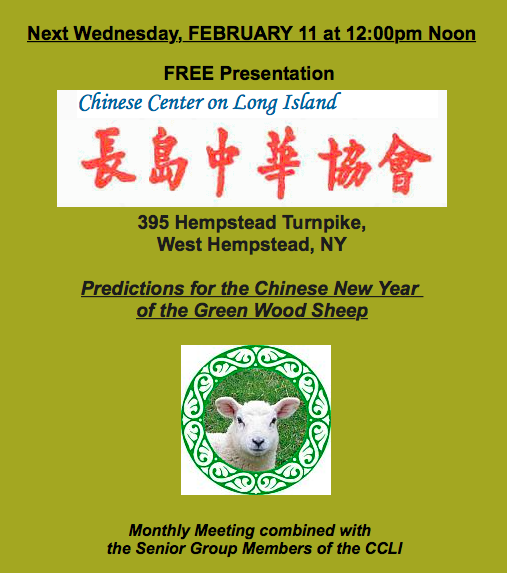 It was such a delight to do a presentation for the senior group members of the Chinese Center of Long Island located in West Hempstead, NY. Nearly 50 people attended the presentation! In addition to giving a brief introduction about the Five Elements of the Sheep, RD shared predictions for the upcoming year for each Chinese animal sign and closed the presentation by teaching a couple qigong movements to foster "Good Health" and blessings for the Chinese New Year of the Sheep!
With sincere thanks for Mona Ng who invited me to the Chinese Center and her husband, Danny, a fellow Water Snake who took all the wonderful pictures of our fun chi-filled time;-) Mona said that "The feedback from the seniors were so positive. They absolutely loved your presentation! After you left they were still talking about your predictions for the year."
Following the presentation, the members enjoyed the community gathering by playing mahjong, ping-pong, and of course, having a delicious buffet of homemade Chinese food!
Here are pictures from the event:
Here is the Slide Presentation:

There are so many predictions to follow. For this presentation, I gave a brief synopsis from my colleague, Joey Yap. Here is the link if you wish to read your upcoming fortune for the Year of the Sheep or Goat!