R.D. as author
R.D. Chin has written this coffee table style book filled with actual case studies of homes and apartments that will inspire you.
Please read (see below) the wonderful book review written by my good friend, Bas Hurkmans, from Amsterdam.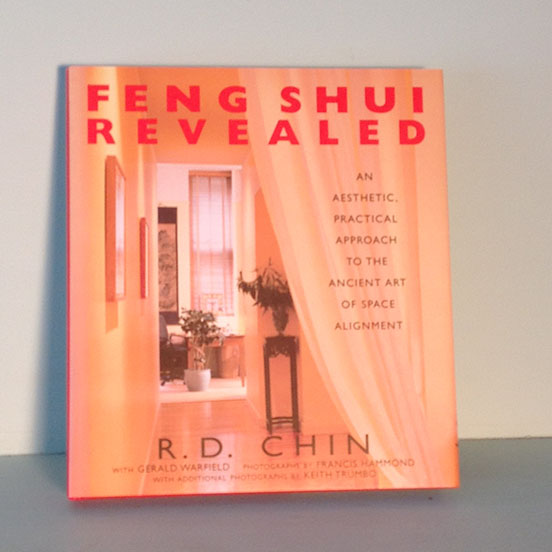 Feng Shui Revealed — Book Review
by Bas Hurkmans

R.D. Chin is an architect and interior designer who has been a Feng Shui practitioner for about a decade and has become a very popular teacher and consultant both in Europe and the USA. He resides and works in both his home town New York City and Amsterdam and has traveled to China and the Far East to study the roots of this ancient art. He is a student of Professor Lin Yun, stands in a specific Buddhist tradition, and tries to make Feng Shui accessible to the western "scientific" mind. Chin combines "laws" of Feng Shui with a love for people and beauty. The spirit of caring about people and their environment speaks all through his book Feng Shui Revealed: An Aesthetic, Practical Approach to the Ancient Art of Space Alignment.The earliest feng shui books available in the West were not so attractive and hard to understand. Then came the wave of publications in which the expert tries to explain to us "how it really is". Their design was more or less advertisement art, including stock photography. Chin's book is the first book with only original and beautiful photography. It is the first well designed book that you can put on your coffee table if you want to show it off. But most important is that Chin, instead of teaching top-down, shares his personal approach. Feng Shui Revealed basically is a tour through fourteen consultations in which the writer simply shows what he saw, what the questions of his clients were, what solutions he came up with, and how the results were.
We get to see a Frank Lloyd Wright house, Manhattan designer's studios, ocean-dune and river houses, and suburban homes. Old lofts and new architecture. Single people and families. Stockbrokers. Fashion designers, architects, art collectors, and contractors. A diversity of locations, interiors, gardens, and styles of furniture, decoration, and building materials.
Through the collaboration with co-author Gerald Warfield it reads like a novel and leaves an impression that you can do something positive about your home without complex calculations, hiring a consultant or taking Feng Shui classes. Chin and Warfield have made the application of Feng Shui more accessible than most books to date have accomplished. The consultations are preceded by a general and unpretentious introduction to Feng Shui. The last part of the book discusses Feng Shui "cures". These are all the possible things one can do to improve less than happy energy flows. The tone of respect for personal and cultural meanings and the large volume of experience result in a humble and cautious, well illustrated description of possibilities. It adheres to the spirit of his teacher Lin Yun that each person's fresh thinking is the best source for any cures.
Good reading for both advanced Feng Shui students as well as anybody interested in home improvement but couldn't be attracted by the Feng Shui hype. Chin's open approach inspires to make your home your comfortable, safe, and happy castle.